Atletico Madrid is presently positioned second in the LaLiga rankings, having accumulated seven points, the same as Barcelona and Girona. They are trailing the current leaders, Real Madrid, by a narrow two-point margin. In contrast, Rayo Vallecano finds themselves in the eighth position with a total of six points.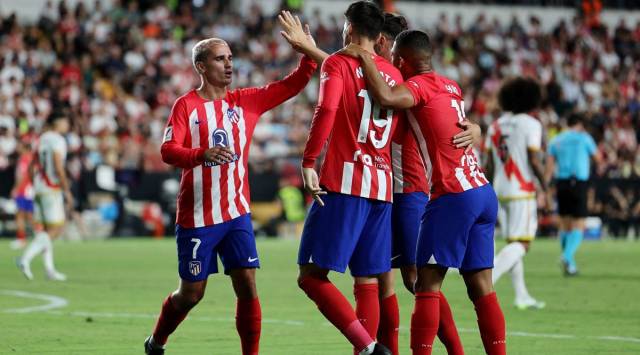 In a remarkable display of skill, Atletico Madrid convincingly outplayed their local rivals, Rayo Vallecano, securing a resounding 7-0 victory on Monday. This impressive triumph was powered by Alvaro Morata, who emerged as a substitute and notched two goals. Additionally, midfield strategists Saul Niguez and Rodrigo de Paul played a pivotal role, each contributing two assists.
The initial phase of the match witnessed Atletico swiftly establishing a two-goal lead, courtesy of strikes from Antoine Griezmann and Memphis Depay from close range. Notably, Nahuel Molina extended their advantage further with a goal resulting from a well-executed counter-attack in the 36th minute. While Depay came close to widening the lead moments later, his close-range attempt was expertly parried by goalkeeper Stole Dimitrievski.
Depay succeeded in finding the net in the 16th minute, capitalizing on a precise low cross delivered by Saul, and calmly slotting the ball in from within the six-yard box. Unfortunately, Depay had to be substituted shortly after due to a leg injury. This development paved the way for De Paul to set up Molina's goal, wherein the defender executed a polished finish beyond Dimitrievski's reach.
The second half of the match witnessed Morata, who had replaced Depay, showcasing his goal-scoring prowess with two well-taken goals. Additionally, Angel Correa contributed to the spectacle by unleashing a splendid dipping strike that sailed over the goalkeeper. Marcos Llorente also left his mark on the scoreboard as a dominant Atletico dismantled their opponents, securing their second victory in three matches of the season.
In the LaLiga standings, Atletico remains firmly in the second spot, sharing seven points with both Barcelona and Girona. Their pursuit of the top spot places them two points behind Real Madrid, while Rayo occupies the eighth position with a total of six points.