The Telangana State government has earmarked a budget of Rs 672 crore for the ambitious Chief Minister's Breakfast Scheme, set to roll out this Friday. This initiative will benefit around 2 million students across 27,147 government schools in the state. Under the program, students will receive a nutritious breakfast featuring items like poha, uggani, millet idli, or vegetable pulao.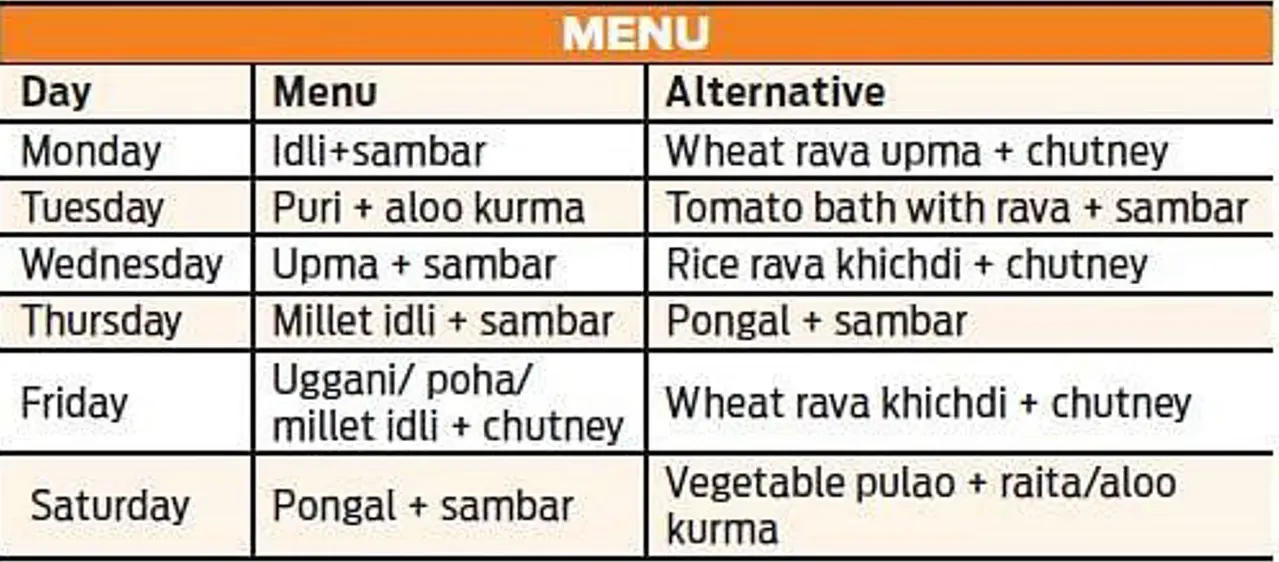 The inauguration of the Chief Minister's Breakfast Scheme will take place at Zilla Parishad High School in Raviryala, Rangareddy district, with the esteemed presence of Health and Finance Minister T Harish Rao and Education Minister Sabitha Indra Reddy. Simultaneously, MA&UD Minister KT Rama Rao will launch it at the Government Practising Primary School in Lashkar Bazar, Hanamkonda.
The primary objectives of this scheme are to combat classroom hunger and promote regular school attendance among students. To ensure its effective implementation, the program will be closely monitored through a dedicated mobile app. The Telangana government's substantial allocation of Rs 672 crore underscores its commitment to this initiative, aimed at benefiting over 2.3 million students in Classes 1 to 10 across government schools. Students will be served a piping hot breakfast approximately 45 minutes before the school day begins.
Education Minister Sabitha Indra Reddy has shared plans to expand the program to other schools following the Dasara holidays. Furthermore, schools will receive improved facilities to enhance the scheme's success. Monitoring responsibilities have been delegated to municipal commissioners in urban areas and additional district collectors in rural regions. The Education, Panchayat Raj, Women and Child Welfare departments will collaborate to implement the scheme effectively. Rigorous inspections by food inspectors and other officials will guarantee the maintenance of breakfast quality.
It's noteworthy that while the mid-day meal scheme typically covers students from Classes 1 to 8 nationwide, the Telangana State government has extended this benefit to students in Classes 9 and 10 as well, incurring an additional cost of Rs 137 crore. Copper jaggery, rich in iron and micronutrients, is provided at a cost of Rs 32 crore to ensure that government school students receive a nutritious diet.
The monitoring of the Chief Minister's Breakfast Scheme follows a hierarchical structure:
School-level supervision is overseen by the headmaster.
Complex headmasters are responsible for monitoring all schools within their designated school complex.
Mandal nodal officers are in charge of monitoring all schools within the mandal.
District Educational Officers, in collaboration with the community coordinator of Samagra Shiksha, oversee all schools within the district.
The progress of the breakfast scheme is tracked through a mobile app and online software.
Implementation of the program is conducted in partnership with the Panchayat Raj, Women Development & Child Welfare departments, with the School Education department serving as the nodal department.
In areas covered by municipal corporations, the civic body commissioner serves as the supervisory/nodal officer.
At the rural level, the Additional Collector (Local Bodies) assumes overall supervisory responsibility for all schools in the district.
Regular quality checks will be conducted through periodic visits by food inspectors.